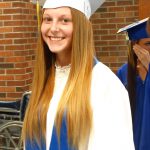 Rain forced today's graduation into the gym, but the 68 members of the Class of 2018 and their parents, friends and families didn't seem to mind the change of venue for Mayfield's 78th commencement ceremony.
Principal Christopher Wojeski welcomed everyone to the ceremony and offered a few pieces of advice to the graduates. "Embrace your change to make a difference in the world," he told the graduates. "When you do, work diligently to attain your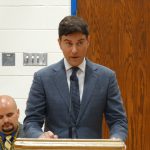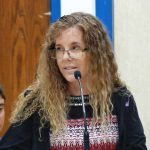 loftiest goals."
In the process, he encouraged them to "improve our society."
Joan Scannell, who is leaving the Board of Education after five years, told graduates to pursue happiness in life and be ready to work for what they want. "Look beyond yourself and be dedicated to a cause bigger than you are," added Scannell, who handed diplomas to the graduates.
Superintendent Jon Peterson told graduates that the education they received at Mayfield will be the foundation they need for the rest of their lives. He recounted how Beethoven, Walt Disney, Henry Ford and Susan B. Anthony were all underrated during their youth and yet achieved success after several failures.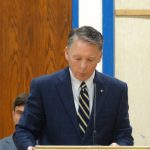 "They all overcame obstacles before they realized their dreams," he said, noting that they should continue trying in the face of challenges in life. "I see a future where you achieve your dreams."
Katelyn Frisch told her classmates during her valedictorian speech that life is full of struggles and they need to persevere.
"But the real truth is everyone in life goes through struggles. Some obstacles we face can be greater than others, but nonetheless, everyone faces some form of hardship in their life no matter who they are," she said.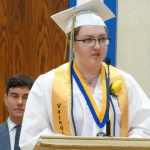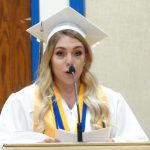 "For many of the students here before you today, high school was a struggle in one way or another. Having to balance school work, homework, relationships, friendships, employment, fears, loss, and new life, all while finding their true individuality and self-identity in this world. Life is tough. We all understand how life can turn from great to bad and bad to worse. But what we don't usually realize are the moments when life gets better. The days we feel like smiling as soon as we wake up. The moments we find cash in between the cracks of couch. The days we spend with close friends from sunrise to sunset. The times where we feel like we are on top of the world," said Katelyn.
Salutatorian Katelyn Harrington credited Mayfield's teachers with her decision to become a teacher herself.
"Although I am very proud of my own accomplishments and those of every graduate sitting beside me, we could not have done this without Mayfield's educators," said Katelyn. "I believe that the educators at Mayfield have touched each of our lives in a unique way that only that individual could have done. The teachers and faculty at Mayfield are the driving force of inspiration behind my decision to become a teacher myself – so that I, too, can someday inspire others as they have inspired us."
"It's hard to give advice to all of you today, as we are all in the same situation, leaving everything we've known our entire lives and grown accustomed to, and moving on to college, the military, or the workforce. However, the teachers at Mayfield have done this all before us, and although times have changed, I believe that we can learn a lot from them and hopefully take with us some of the virtues and attitudes that they embody," she said.
She said there was a lot more to learning at Mayfield than what happened in the classroom.
"I do believe it is important that we recognize the teachers that got us here as well, and have taught us so many virtues beyond the surfaces of their classes that maybe we didn't realize or understand at the time. Once we get our diplomas today and go on to go the next step, I hope that all of you can think back to Mayfield and what this school had to offer, how the teachers made you feel, and what they really taught you without you even realizing it," she added.
Read both student speeches in their entirety.
For a deeper understanding of the Class of 2018, check out some of these links:
Here are a few photos from today's ceremony: