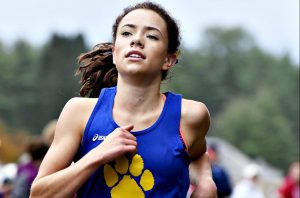 Freshman Madison Relyea will represent Mayfield in Saturday's cross country championship at the Wayne Central School District near Rochester after having finished second in the Section II Class D championship at the Saratoga Spa State Park last Friday.
She was the lone runner on Mayfield's varsity team this year. Her coach, Rebecca Newkirk,  said she mostly had Maddi train with the school's boys' team this year.
She was featured in a story in today's Daily Gazette here –https://dailygazette.com/article/2017/11/06/relyea-on-her-own-ready-for-state-championships
The photo above is also courtesy of the Gazette.