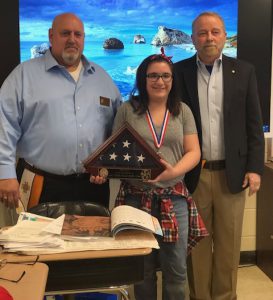 Grade 6 student Mary Blanchard does more than just stand for the Pledge of Allegiance every day in class. She thinks deeply about what the red, white and blue really mean and how many have lost their lives defending our ways of life.
"Most people don't realize why we say the Pledge of Allegiance every day or how many people died for us fighting," she wrote in her essay, "Why I Honor the American Flag. "I always think I could never do what they do for me and my country. The flag represents sorrow, hurt, and gratefulness all in one cloth."
Now, she says, instead of her fellow classmates asking "what is it for" when they say the pledge every morning, she thinks "Thank You!"
Her essay won her the VFW Patriot's Pen contest,  "Why I honor the American Flag" through local Post 8690 in Broadalbin. Students throughout Fulton and Montgomery counties entered the contest.
Her essay was submitted by her teacher, Amy Codi.  
Mary was surprised when the Commander of the VFW Post, Robert Becker,  and Quartermaster and Financial Officer, Lance Willsey, came to school along with her mom and sister to surprise her. 
Mary received a $50 award as well as the flag that you see in the photo.