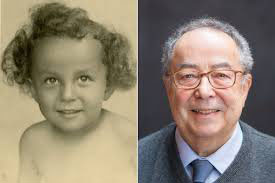 About 70 students in the History of the Holocaust and AP United State History classes at Mayfield, as well  as students from  Fonda-Fultonville and
OESJ, heard via a webinar from Joel Nommick, a survivor of the Holocaust in World War II.
Joel Nommick was born in December 1942 in Nazi-controlled France, three months after his father had been sent to Auschwitz. 
Mr. Nommick's presentation was through a teleconference with the US Holocaust Museum in Washington, DC, coordinated by Jennifer Wasserstrom.
Despite being very young, Mr. Nommick has a very detailed memory of his family's experience during WWII.  His mother and two older brothers were able to live under false identities and with the help of their neighbors, who were able to give them milk, butter and cheese as they were unable to receive food rations cards, and could have cost their neighbors their lives. 
While Joel, his mother and brothers were able to survive the war, the death of his father, Jean, is still unknown.  Before Auschwitz was liberated in January of 1945, Jean Nommick was sent on a death march which led him to other labor camps including Dora, Drancy and eventually Bergen -Belsen. 
Mr. Nommick has learned a great deal about the kindness of his father from other survivors who have found him after the war.  This information has taught him the most important lesson which he shared with our students: "Don't carry hate in your hearts, it's like a cancer.  You must only carry love".