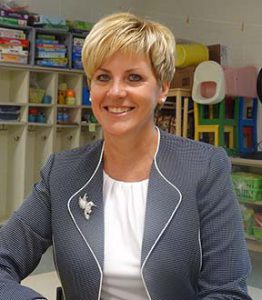 Katria Hitrick expected she'd be working in the banking field and selling insurance and annuities for the rest of her career.
Hitrick was the bank manager/vice president at HSBC Bank in Clifton Park for 14 years until 2005. Her branch was the second largest HSBC branch in the Capital Region.
She was climbing the corporate ladder at HSBC, making a handsome salary and had big dreams.
Then Junior Achievement changed the life of Mayfield Elementary's new principal. HSBC became involved with Junior Achievement, which sends business people into schools to educate students about issues relating to work readiness, entrepreneurship and financial literacy through the use of experiential, hands-on programs. 
"I started working with kids in the schools and had an aha moment – I absolutely loved doing it! I knew this was what I was supposed to do," said Katria (pronounced Ka-tree-a) Hitrick, 53, of Broadalbin. "Education was never on my radar. I called my parents and told my father I wanted to be a teacher, and he said, 'let me put your mother on the phone!'"
Hitrick began at Mayfield on July 2, though she was able to spend time at the school in June. She replaces interim principal Paul Williamsen, who came to Mayfield in November after former Principal Nick Criscone left for another principal job in Scotia-Glenville. 
She came to Mayfield after three years as the principal and the Committees on Special Education and Preschool Education chairperson at the Lake Pleasant Central School District in Speculator.
Prior to that position, she had served as principal and interim principal at Bradt Primary School and as interim assistant principal at Pinewood Intermediate School, both in the Mohonasen School District in Rotterdam. She taught grade 4 for three years at Pinewood.
She said that, as an assessment liaison administering the state's Teaching is the Core Grant through the HFM BOCES, she had always noticed that Mayfield "was a terrific place with a great faculty and staff" who were always on the cutting edge.
As principal, she said she'd like to continue the momentum begun two years ago with the math series and last year a new ELA series, Journeys.
"I want to build on that progress and find out what's working and what areas need improvement so that we can best support students," said Hitrick. 
She also wants to stress the need to incorporate social studies and science instruction into ELA and math lessons. "When you look at real world applications, they are always blended and integrated not separate," she said. "We need to do the same thing in schools."
Hitrick also said that schools need to aware of the "social and emotional wellbeing of our students. Their social and emotional health is critical to their success, and we have to make sure we are supporting that," she added.
She also said she'd like to support staff professional development in particular areas by beginning a book studies group, in which educators study a particular area and discuss it.
She and her husband, Mark, have three children: Alex, 20, a junior at the College of St. Rose majoring in music education; Ben, 19, who is pursuing a career in acting; and Connor, 18, a sophomore at St. Rose majoring in forensic psychology.