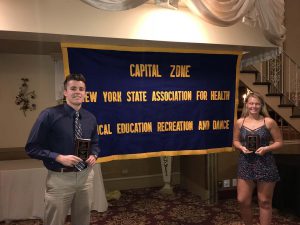 Two Mayfield seniors have been awarded the 2017-18 NYS AHPERD (Association for Health, Physical Education, Recreation and Dance) Capital Zone Physical Education Leadership Award.
Sydney Sheldon and Thomas Gates received the AHPERD Leadership Award on Sunday, April 29 at the NYSAPHERD  banquet along with dozens of other students from many of the school districts in the capital area. Sydney and Thomas were selected by the physical education staff at Mayfield High School because they possessed the qualities of high scholastic achievement, high level of physical performance, outstanding service to the school or community, and display exceptional leadership qualities.
Sydney
Sydney Sheldon has earned the President's Council highest fitness award annually since she was in elementary school. She is a three sport scholar-athlete participating in soccer, basketball, and softball. She is a captain, an all-Star and a leader on all of her athletic teams, but especially excelled in basketball where she is a multi-season team MVP, Western Athletic Conference All-Star, conference MVP, Section 2 All-Star, and Section 2 Record holder by scoring 409 points in one season. Sydney reached the 1000 pts scored record as well this season and is ranked 2nd & 8th respectively for Player of the Week in the Recorder and Times Union polls. 
Aside from her athletic accomplishments, she is on the academic excellence list, is a National Honor Society member and treasurer, participates in AAU, key club, and takes a rigorous course load including a participant in the New Visions Program. She accomplishes all this and still finds time to volunteer at our local nursing home, work election day call ins, help coach at the youth levels, and can be found volunteering at many other local events. 
Her PE teachers say she brightens up the room with her smile and positive attitude. Sydney holds herself to high personal standards always. Sydney has been accepted in the honors program at Utica College of Nursing and also hopes to play basketball at the collegiate level.
Thomas
Thomas Gates is a two-sport all-star level athlete who leads his teams both on and off the playing field. Tom is a multi-season captain of his soccer and basketball teams. He has earned numerous scholar-athlete awards including the NYSPHSAA Team Award and the New Channel 13 Scholar Athlete Award. Tom is a Western Athletic Conference Leadership Delegate, the senior class treasurer, and in 2017 he earned the University of Rochester Young Leaders Award. 
Thomas takes rigorous academic courses, is a member of the National Honor Society, and earned the Clarkson Math and Science Scholarship. Along with all the National Honor Society services, Tom also finds time to volunteer as a peer tutor for Spanish students and involves himself with community events such as the Historical Society Homestead clean up, the Rise against Hunger fundraiser, our local playground construction project, and is a youth basketball coaching volunteer. 
More importantly, Thomas is a solid school citizen. He holds himself to high standards as a President's Challenge fitness Award winner. He is a role model in PE by participating with fun-loving energy and willingness to help out when needed. He is respected by his peers and the community, and will no doubt continue to lead by example as he looks to further his education. Tom hopes to study finance at Providence or possibly Syracuse University where is has been accepted.