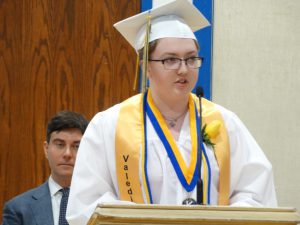 My Final Assignment, by Katelyn Frisch
This speech is my final assignment for Mayfield High School. It's ironic, how I have worked so hard over the last four years to become Valedictorian. And I now have this one last assignment of writing a speech. I thought all of my hours of staying up late finishing projects was over for this year, however I was horribly mistaken. This last assignment has proven to be one of the most difficult assignments in my high school career, just next to Mr. Thelin's AP US History summer assignment and Mrs. B's senior project.
I thought about using a speech from a shady website on the internet that would write a speech worth a 4.0 guaranteed! However, from witnessing the bags under my eyes you can infer that I spent quite a bit of time perfecting this speech.
The struggle of figuring out what on earth to say on this day was beyond stressful. Will it be meaningful? Will it be inspirational? Will people cry? Will it be remembered? Will it be boring? Will they laugh at my horrible jokes? The struggle is real, people.
But the real truth is everyone in life goes through struggles. Some obstacles we face can be greater than others, but nonetheless, everyone faces some form of hardship in their life no matter who they are.
For many of the students here before you today, high school was a struggle in one way or another. Having to balance school work, homework, relationships, friendships, employment, fears, loss, and new life, all while finding their true individuality and self-identity in this world. Life is tough. We all understand how life can turn from great to bad and bad to worse. But what we don't usually realize are the moments when life gets better. The days we feel like smiling as soon as we wake up. The moments we find cash in between the cracks of couch. The days we spend with close friends from sunrise to sunset. The times where we feel like we are on top of the world.
As has been said before, our class is one that has faced many obstacles, whether it be medical problems, mental health diagnoses, relationship troubles, family challenges, the loss of a loved one, and many more. We have persevered through those obstacle to appear before you on this day, and I am extremely proud of what we all have accomplished.
We all have anxieties about the future, and I for one am nervous about what the future holds for me. Graduating can seem terrifying, being Valedictorian is terrifying, having to write a speech and speak in front of a large crowd of people is terrifying, and using the method to visualize everyone naked just makes the situation awkward and even more terrifying.
Overcoming any obstacle or fear is difficult, but life is full of them. So, class of 2018, as you go forward, take on the things you fear and plow right through those obstacles that dare to stand in your path. And most importantly live, love, and be happy.
On this day that we will all remember, I will leave you with this quote from Mark Twain, "Twenty years from now you will be more disappointed by the things that you didn't do than by the ones you did do, so throw off the bowlines, sail away from safe harbor, catch the trade winds in your sails. Explore, Dream, Discover."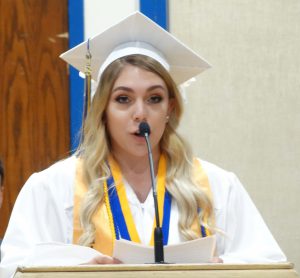 Katelyn Harrington, Salutatorian
Good morning friends, family, faculty, friends of friends, friends of family and family friends, and thank you all for being here to share this monumental day with the Class of 2018. I am so humbled to be able to speak before all of you and my fellow graduates this morning as the Salutatorian of the Class of 2018.
However I know that not everyone knows what salutatorian means, so let me give you the definition provided by Urban Dictionary. By definition, a salutatorian is, "the smart kid who stayed up way too late studying, drank enough coffee to kill a camel, and missed so many parties that everyone thought they were a hermit.. just to get second place."
I can't necessarily disagree with this description, but second place is nothing I am ashamed of. It's something I've worked so hard for over the past four years, and it's a dream that it finally happened and I'm speaking before all of you today. Although I am very proud of my own accomplishments and those of every graduate sitting beside me, we could not have done this without Mayfield's educators.
I believe that the educators at Mayfield have touched each of our lives in a unique way that only that individual could have done. The teachers and faculty at Mayfield are the driving force of inspiration behind my decision to become a teacher myself – so that I, too, can someday inspire others as they have inspired us.
Graduates, I hope that we all move on to extraordinary and remarkable things that are above what our lives have been so far, but I want to take this time to appreciate our educators and to share some of the advice that they have given me and lessons they have taught me, with you all.
 For starters, green pens are not just green pens anymore after you have taken an English class with Mrs. Brumaghim. They're a symbol of her enthusiasm she brings everyday in the classroom and her positive energy that is infectious. Mrs. B has taught us the proper uses of commas, but also how to have an upbeat and positive attitude no matter what the day ahead of us brings. She embodies what Carpe Diem means, and I hope that the Class of 2018 always remembers to seize each day and make the most of every situation.
Fancy ties with perfectly matched shirts are synonymous with Mr. Thelin. He is organized, well prepared, and everything that we weren't going into 9th Grade Global and AP U.S. History. He taught us discipline and powerful lessons regarding how to finish a DBQ the night before it's due, and the importance of math and wagering in Review Jeopardy. He taught us the fundamentals of history, but also how the real world will treat us and what to expect in our future endeavors.
Mrs. Swart's purple canvas bag is filled with papers from all of her Spanish students but also represents what must be going on her mind as she goes home and thinks about her students and how she can help them. Spanish V taught me how to memorize every tense we have learned over the past few years in one night before the final, but also taught me a number of life lessons. Senora cares more about her students than any other educator I know, and I hope that we all take from her lessons of kindness, understanding, and compassion. After we receive our diplomas today, I hope that we all can carry those virtues with us throughout life.
Caraco's soccer scarves taught me lessons of passion. He was able to connect with so many members of this graduating class on different levels, whether it be music, math, or soccer. When sitting in Pre Calc, I knew that math was not my passion and I couldn't help but look around the room, trying to ignore the problem on the board. *** PAUSE*** I would look at his soccer scarves and know that the world is so much more than just math. It's everything we are passionate about, love, and make time for. Graduates, I hope that you all have one thing you are passionate about and you hold on to it throughout your life and find your happiness in it.
Mr. Matarazzo's yardstick in his room didn't serve substantial purpose in his Chemistry and Anatomy classes, but it was used as a prop in a series of films several other graduates and I made that Motty supported. He would stay after and watch us film scenes in his room or in the hallways not because he had to, but because he wanted to and was genuinely interested and enjoyed what we were doing. He laughed with us and prompted us with more creative ideas when we came to standstills, and he taught us the value of creativity and a good sense of humor. After graduation and into life, I hope that we all keep our creative, inquisitive minds and support one another. We should all take Motty's love for creativity and innovative thinking with us as we each turn to different
paths in the future.
The teachers I mentioned are just a select few of the number that have taught me valuable lessons here during my time at Mayfield. They come from each discipline: English, history, foreign language, math, and science. Even in the classes that I didn't love, I was able to learn something of value from the teacher.
It's hard to give advice to all of you today, as we are all in the same situation, leaving everything we've known our entire lives and grown accustomed to, and moving on to college, the military, or the workforce. However, the teachers at Mayfield have done this all before us, and although times have changed, I believe that we can learn a lot from them and hopefully take with us some of the virtues and attitudes that they embody.
The enthusiasm of Mrs. B, the discipline of Mr. Thelin, the understanding of Mrs. Swart, the passion of Mr. Caraco, and the love for creativity of Mr. Matarazo are all virtues that I felt were most important to take with us as we move on to the next chapter in our lives, whatever that may hold.
Our journeys that led us here to this stage on this important day have not been short or easy. They've been long and difficult, but they have been worth it. Luckily, none of us have had to do this alone. We have had the love and support of our friends and family members who have raised us and taught us so many things.
However, I do believe it is important that we recognize the teachers that got us here as well, and have taught us so many virtues beyond the surfaces of their classes that maybe we didn't realize or understand at the time. Once we get our diplomas today and go on to go the next step, I hope that all of you can think back to Mayfield and what this school had to offer, how the teachers made you feel, and what they really taught you without you even realizing it.
As we part ways after graduation and the lines of happiness, sadness, confusion, and excitement blur together, I know that I will hold these virtues close to me and everything I was taught by my teachers and peers. I will always remember the way they made me feel, and the real messages they were teaching me.
I wish the best of luck to my fellow graduates of the Class of 2018, and I hope that we all can look fondly back on our time together and what we learned. Remember the way we felt and remember the way we made others feel, because we are all learning from each other.
Thank you so much for allowing me to speak before all of you today, and thank you for an amazing 14 years at Mayfield.