Salvador Dali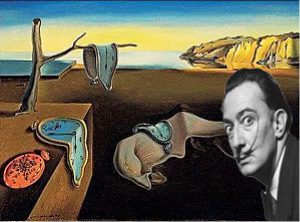 – known worldwide for his long flowing mustache – is one of the most celebrated artists of all time. He would have turned 115 years old this week, May 11.
To celebrate his birthday, students in the Brainstorm Club are asking students to stop by Rik Kent's art room and have a "Surreal Selfie" taken with a Salvador Dali painting. They are posing in front of one of his most famous paintings, from 1931, called "The Persistence of Memory."
Students can also attend the Brainstorm Club's Coffeehouse on May 17 to have a selfie taken in front of Dali's painting. The coffeehouse is an annual event that runs from 6-8 p.m. on Friday, May 17, in the HS cafeteria. There will be live music, free copies of this year's School Literary Art (Brainstorm)  magazine, free food, coffee and refreshments plus an art display. 
Dali was considered one of the leaders of the Surrealist art movement (art that dealt with realistic but dreamlike and often odd imagery). His fiercely technical yet highly unusual paintings, sculptures and visionary explorations in film and life-size interactive art ushered in a new generation of imaginative expression. 
Here are a few of the student's "selfies:"