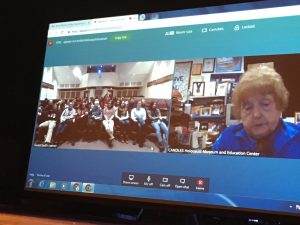 Mayfield students in the History of the Holocaust and AP Psychology classes hosted a video conference with Eva Kor on Wednesday, December 19.
Mrs. Kor is a survivor of the Mengele twin experiments at Auschwitz. Here is what Wikipedia says about Mrs. Kor "Eva Mozes Kor (born January 31, 1934) is a Holocaust survivor. Along with her twin sister Miriam, Kor was subjected to human experimentation under Josef Mengele at the Auschwitz concentration camp during World War 2. She lost both of her parents and two older sisters to the Holocaust; only she and Miriam survived."
Mayfield students were joined by distance learning students from Fonda-Fultonville, Galway and OESJ.
It was a powerful experience and one that our students will long remember. 
Eva shared two important life lessons:
1. Never give up on yourself.  "Hope in Auschwitz was in short supply….I made a pact with myself that Miram and I would live no matter what," she said.
2. Forgive your worst enemy – "Most victims are angry because you did not have a choice to be a victim. But you have a choice and the power to forgive," she said.
And this forgiveness has helped Eva to no longer feel like Dr. Mengele's guinea pig, but a true survivor.
Here is more information about Mrs. Kor.