"People Like You,"
Taryn LaFontaine, Salutatorian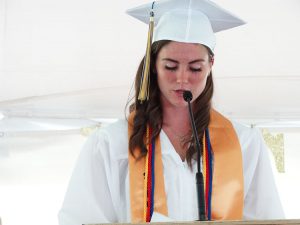 Good morning and welcome, students, teachers, school board members, district staff, friends, and family members, and thank you for coming to the graduation of the Class of 2019.  If it were not for all of you in attendance today, none of the graduates would have the privilege to be up here right now. Today is a day to celebrate our collective successes and to begin a new chapter in our lives.  To my classmates, I am not going to stand up here today and give you life advice.  You all have the tools you need for success. Instead, I am going to try to complete the difficult task of explaining to everyone just how special this class is.
I'm not sure about anyone else here, but on the first day of 7th grade, way back in 2013, when I saw the sign that said "Welcome Class of 2019" I remember thinking, "ugh that's so far away."  I also remember walking through the Senior Lounge for the first time ever and being absolutely petrified and avoiding it at all costs.  As the years went on everyone always said to enjoy this time while it lasts and to not rush it, but of course there was always that little part of me that simply could not wait to get to this year: senior year.  And then they said that this year goes by in the blink of an eye, and man, they were not kidding. As I sit here and look back on the last six years at this school I can think of a lot of great memories, but more importantly, a lot of great people.  People like Diana Morse and Cassie Cerasia who volunteered countless hours of their lives for the betterment of our school and our community. People like Joe Ward and Chloe Jarret whose smiles and laughs are so infectious you are guaranteed to be put in a better mood by simply being around them.  People like Zach Hamm and Evan Lehr whose humor will make you laugh so hard your stomach hurts. People like Taylor Proctor and Cameron Allen who sing and perform beautifully. People like Walker Goodemote, who is so authentically himself it makes you realize that the only opinion about yourself that matters is your own.  People like Thomas Lawrence and Dylan Bumpus. What a lot of you may not know about Thomas is that he completed basic training for the U.S. Army last summer and just two days ago he was deployed to Virginia.  I know Thomas is going to serve our country with the utmost honor and courage. Dylan is currently out in Colorado at the Air Force Academy beginning basic training. As a friend of his, I saw firsthand how physically and mentally taxing it was to get his appointment to the Academy, but the look of joy on his face when he told me he got in is something I'll never forget.  I know that everyone here is proud of these two young men and wish them nothing but the best. I could really go on for a while about attributes that each of you possess that are unique to this class that made our time here as amazing as it was.  
This year was one to remember, and while it went by quickly, it was filled with huge accomplishments.  As usual, the band and choir put on multiple performances full of wonderful music. The Drama Club's production of Once Upon a Mattress was amazing and I know much of its success came from the multiple hours of dedication from a lot of the seniors.  The Brainstorm Club published another amazing magazine that featured artwork, photography, poetry and prose from the many talented students in this class. The MasterMinds team had the most successful year to date and we were able to go to Chicago for Nationals for the first time ever.  The volleyball team went to states for the second time since our freshman year, meaning a lot of the players on the team can say that they went to states twice in their career which is a huge feat in and of itself. Along with this, over the winter, Garret Delaney scored his 1,000th point in basketball and Kira Williams, Antonio Mannino, and Dylan Bumpus went to states for nordic ski.  In the spring, the girls track team had an extremely successful season and multiple athletes, boys and girls, were able to compete in state qualifiers. We even had a member of our class, Isabelle Henderson, earn the title of Miss Fulton County. 
I have just named a number of achievements, but you all need to know that everyone up here has had several amazing accomplishments of their own.  Look at the people on these bleachers. It is obvious that I have not mentioned every single one of them. However, we know that some of you have overcome great hardships and that does not go unnoticed. Remember, we are not just proud of the points or productions, it is the people you see before you that make the Class of 2019 outstanding and unique. Each time one of these students walks across the stage to receive their diploma, please give them applause because they have truly earned the recognition. 
I would now like to thank the people who have helped me be able to stand up here today.  My biggest thank you has to go to my family for always pushing me to be a better version of who I was the day before and supporting me through all of my decisions.  I would also like to thank Mr. Thelin and Mr. Allen for teaching two of the most academically demanding and challenging courses in the school. I truly believe that you two produce some of the most prepared students as they head off to college and I am grateful for having had the opportunity to have both of you as teachers.  I would like to thank Mr. Backhaus for allowing us to have two period long conversations every day last year, but also for supporting me and for always checking in every now and then. I of course have to say thank you to Mr. Caraco for always having my back and also allowing me to talk his ear off every single day for the last four years.  Lastly, I would like to thank all of the district staff that helps our school function as smoothly as possible and helps provide us with numerous opportunities. 
Today is the day that we will no longer be Mayfield High School students.  We are all teetering on the edge of adulthood which can be a terrifying thought, but if there is one thing I have learned in my time here at Mayfield it is that this is a community where everyone supports each other no matter what, and it will support us as we figure things out, but it will let us do it on our own.  This community has raised us, guided us, and supported us, and now it has to let us go, however, this community will still be here when we come back to visit. It is our time now to go after our dreams. If there is one thing I would like to say to my classmates it would be; (pause) please do not change who you are. (pause)  You are all amazing people with great futures ahead of you, no matter what you choose to do with them, and like Dr. Suess said, (pause) "Kid, you'll move mountains."
"The Start of Something New,"
Maggy Lambo, Valedictorian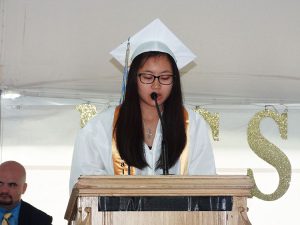 Thank you Taryn, that was an eloquent speech. Good morning graduates, faculty, family, and friends, and especially my mom and dad. I'd like to start by congratulating Mayfield's class of 2019. We've been through so much together during our years in high school. We've spent hours in class, taking countless tests and quizzes, writing essays, reading novels, and completing projects. As a class, we have accomplished so much outside of the classroom as well, like onstage during drama productions, in art class, while volunteering, at band and choir concerts, and at sports games and meets. So much time, hard work, and dedication has gone into getting a high school education, and today, it will finally pay off. All of the time we have spent as Mayfield students has been leading up to this day, this moment. I think you all deserve a round of applause. Pause.
However, behind every graduate is an endless list of people who helped us along the way. There are many people who guided and supported our accomplishments. First off, our parents and guardians; the people who raised us, took care of us when we got sick, supported us through difficult times, drove us to practice or a friend's house, and helped us grow into the people we are today. These are the people who we literally wouldn't be alive without. I would specifically like to thank my parents, John and Nadine Lambo, who traveled across the world to China, to adopt me and save my life. Pause  From that day forward, my parents always gave me everything that they could. They taught me to go the extra mile, never settle for less than my best, and never give in, no matter how hard the task. They are the reason why I am standing here today giving this speech. My mom used to take my sister and I to the library every weekend, which inspired my love for reading. They both helped me to study for the spelling bee. Every night they would go over the list with me, even when I refused or wanted to quit. Throughout high school, they continued to support me when I struggled under the weight of my course load.  And Molly, thanks for looking over my speech. I love you all. Thank you for everything.
Next, I would like to thank our teachers. Teachers are more than just the people who educate us. Many teachers are like friends, someone who you can have a conversation with or get some advice from. I would like to give a special thanks to Mrs. Brumaghin, who is retiring this year, for organizing many events for our senior class along with teaching us English. Thank you to Monsieur DiGrazia. Je n'oublierai jamais le voyage à Montréal. Merci beaucoup. Ce n'est qu'un au revoir. Grazie mille. Mr. Bornt, sorry for rocking the bus at every ski meet. Mr. Caraco, I hope to see you performing on stage one day; I'll be the first one to buy tickets. Mr. Wing, as the hit song by the Swedish pop band ABBA once said, thank you for the music. And to all the other teachers that I haven't mentioned, I haven't forgotten about you. Thank you for all of the fond memories! If I tried to list them all we'd be here forever. Also our guidance counselor, Mrs. Farrell, works hard each year to give us the classes we wanted and help us figure out what we would do after leaving high school. Thanks to Dr. Wojeski, Mr. Lewis, and Mrs. Dougherty for making this school a place that we can all be proud of. Last but not least, I think that the other staff at the school should be recognized. Not only the coaches who push us to excel athletically, but the lunch staff that feeds the school, the custodians who clean up after us, the Board of Education that creates our annual budgets and develops district policy, the office staff who keeps everything running smoothly, and the bus drivers who get us to school, games, and competitions safely. 
So what's next? Pause In the words of a great film, High School Musical 3: Senior Year, "High school wasn't meant to last forever." For better or for worse, high school is officially over. Once we leave today, we are free. No more waking up at six am, 7:50 in my case, to get ready for a school day at Mayfield. By the end of the summer, we will be going our separate ways, off to college, enlisting in the military, finding a job, or even moving to another state. This ceremony marks the end of our time at Mayfield High School, but it's also the START OF SOMETHING NEW. Some students will spend the next few years furthering their education, going on to college, law school, med school, or grad school to get a degree. Some of you are doing something different. College isn't for everyone and that's okay. Even though it is not recognized as often, going to a trade school or entering the workforce after high school is just as important. Where you've been or where you came from doesn't dictate who you are or who you can become. 
Don't be afraid of changing your plans. Take a gap year to figure yourself out. For those of you going to college, take classes that you normally wouldn't. Feel free to change your major or even your career path. The world is vast and your life is just getting started. Don't be afraid to go your own way. Don't let other people stand in your way of achieving your dreams, and don't let criticism or fear of failure stop you from doing what you love. As long as you are doing what makes you happy, that is the true definition of success. PAUSE
Success doesn't come in one form. We don't need our career, profession, or otherwise to define us. We are more than our jobs and the value that we provide for society. Life isn't just about money or status. Work is what we do to survive, but it's the things that we do in our personal life that makes us feel alive. Even here among our class, we have diverse interests. Some of us like drawing, or running, horseback riding, photography, dancing, cinematography, hunting, singing, binging Netflix, and so much more. While these passions might not turn into a job, they are an equally important part of who we are. No matter where you go, what you do, or who you become, just be you. Don't waste the opportunities that you get and have no regrets because life is now. The future is uncertain, but remember, we're all in this together.