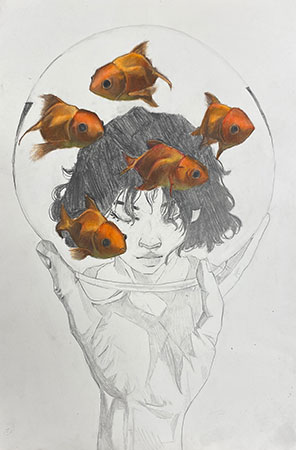 Mayfield High School sophomore Abrianna Hayes has been awarded an Honorable Mention in Saratoga Arts' 2023 High School All Stars exhibition. Abrianna's winning entry is pictured at left.
Abrianna will receive a complimentary student membership at Saratoga Arts, a $35 dollar value. Student members are granted exclusive exhibition opportunities, increased showings and a real-world outlet for their art, and a discount for classes.
"I'd be interested in taking a character design class," Abrianna said. 
She was surprised by her award in the contest. "When I won, I was honestly taken aback. It was just an art project that my teacher submitted, and I didn't expect to win anything." 
Abrianna, whose favorite medium is colored pencil and who loves to sketch and create characters, plans to study digital multimedia & communications next year through the HFM BOCES Career and Technical Education program.
After graduation, Abrianna is considering a career in graphic design or video game design in Manhattan, where she has family members and friends with connections to Broadway. 
Congratulations Abrianna!
In the photos
At top: Abrianna's winning entry
Below: An art class project in progress and a page from Abrianna's sketchbook