Bus drivers, aides and other transportation staff with several area school districts worked together to stuff a 66-passenger school bus full of new unwrapped toys as seen at Mayfield Central School on December 18.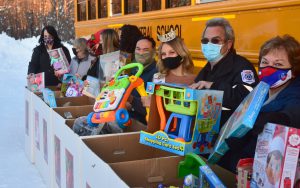 Nancy Christman of NLC Transportation Services of Ephratah coordinated the effort. She is responsible for the various annual safety training and examination of school bus drivers through the requirements of the state of New York.
"Thank you to all the transportation staff from our local school districts that helped 'Stuff the Bus'," Christman said.
Christman thanked OESJ, Wheelerville, Wells, Lake Pleasant, Piseco, Northville, Edinburg, Mayfield and Broadalbin-Perth school bus drivers and staff. She also thanked R&C Enterprises, Rich Christman Motorsports and Kim Heroth for collecting toys.
"It was very heartwarming to see that amount of toys and to know that the kids in our local communities will have a great Christmas thanks to you!" Christman said.
The donations were turned over to Empire Ambulance on behalf of the Fourth Annual Fulton County Area News Christmas Toy Drive in support of the efforts of The Salvation Army of Fulton County, NY.
All donations will stay in the area.