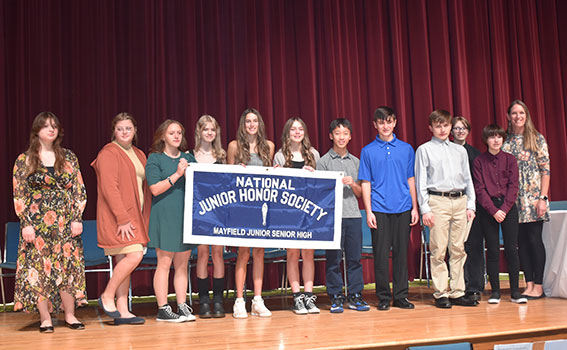 Thirteen Mayfield Jr. High School students were inducted into the National Junior Honor Society in recognition of their achievements and accomplishments at a Nov. 16 evening ceremony in the auditorium. 
Congratulations to:
Hunter Blais
Jean Bowers
Gracelin Bradley
Isabella Horne
Alivia Kastberg
Kason Kindar
Lucy Kline
Halina Michaels
Abigail Powers
Abbey Rhodes
Sam Rossbach
Giana Sinisi
MJ VanNostrand
The students had to meet requirements in grade seven to be inducted into the NJHS in grade eight. The following membership requirements are based on the five pillars of NJHS:
Scholarship: Students must have an average of 90 or higher.
Service: Students make voluntary contributions to their school or community.
Leadership: Students are leaders who are resourceful, good problem solvers, and idea contributors in their school or community.
Character: Students are of good character and are cooperative, demonstrate high standards of honesty and reliability; show courtesy, concern, and respect for others, and generally maintain a clean disciplinary record.
Citizenship: Students who demonstrate citizenship and understand the importance of civic engagement; have a high regard for freedom and justice; respect democracy; respect the law; and demonstrate mature participation and responsibility in activities such as scouting, community organizations, or school clubs.
"As a chapter, we have already completed a service project," said NJHS advisor Rebecca Newkirk. "The students raked leaves for the Presbyterian Church in Mayfield.
"We are currently holding a food drive for the local food pantry. Donations are being accepted in the main office."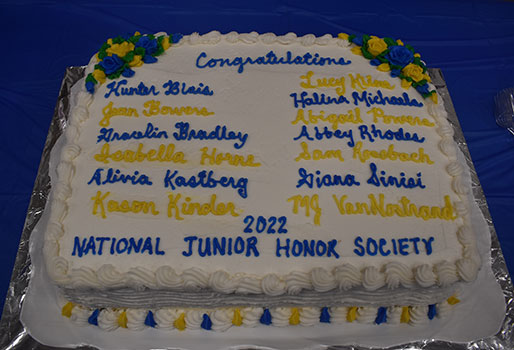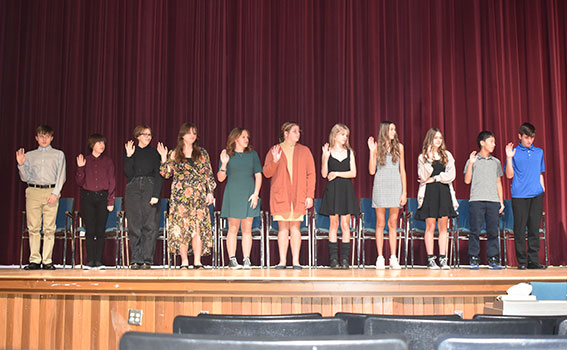 Photos by Mayfield HS student Landon Clark