School budget vote will be held June 9 by absentee ballot
On Tuesday, May 12, the Mayfield Board of Education adopted a $20,475,736 budget proposal for the 2020-21 school year.
This year's school budget vote and board of education election will take place on June 9, exclusively by absentee ballot due to the COVID-19 public health crisis.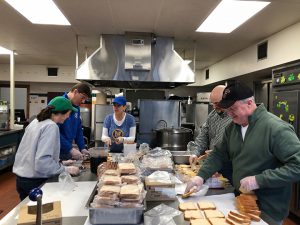 The proposed status quo budget continues all academic programming at current levels while staying under the property tax levy cap. The plan calls for a 1.06% spending decrease and proposes a 0.21% tax levy increase, which is Mayfield's state-calculated "tax levy cap." The typical taxpayer with a $100,000 assessment will see an increase of $5.22 per year or 43 cents per month. A simple majority of voters (more than 50%) is required for budget approval.
Qualified voters will be automatically sent an absentee ballot. Qualified voters are defined as U.S. citizens who are 18 years or older and have lived in the district for at least 30 days prior to the vote.
Anyone who meets the definition of a qualified voter, but does not believe they will be on the school district's poll list of residents who voted in recent elections, should contact the District Clerk Debra Javarone by email at javarone.debra@mayfieldcsd.org as soon as possible to ensure timely receipt of an absentee ballot for the 2020 election. Please click here to see if you are on our current polling list.
The district sent each qualified voter a postcard with the date of the election, the date of the budget hearing and the definition of a qualified voter.
The Public/Budget Hearing will take place at 7 p.m. on Tuesday, June 2, 2020 via WebEx.  Login information will be provided at https://www.mayfieldk12.com/board-of-education/
View the presentation to the Mayfield Board of Education on the budget for the 2020-21 school year. 
View the budget notice on the on the budget for the 2020-21 school year. 
More Information About This Year's June 9 Budget Vote:
1. 2020-21 budget proposal –

$20,475,736
State Aid
The Mayfield Board of Education adopted a budget with the most up-to-date projected state aid information. However, Governor Andrew Cuomo will be updating the state spending plan quarterly, which could lead to a decrease in the amount paid out to school districts. Mayfield CSD is following the lead of the governor and will reassess the budget on a quarterly/regular basis as more information becomes available. This means waiting until mid-year to make some purchasing and staffing decisions.
New Elementary School Counselor
Mayfield is hiring a new school counselor at the Elementary School. The state requires every school to have a comprehensive developmental school counseling/guidance program for all students in grades K-12. Mayfield currently only has counselors at the Jr./Sr. High School. We're excited for the new opportunities that elementary students will have with access to a full time counselor.
New Technology
Education is changing, and our administrative team is looking for ways to adapt to the changes in a way that is best for the students, teachers and parents. We will make decisions this summer and fall to determine the best way to make this investment.
What Happens If the Budget Doesn't Pass by a Majority Vote
A simple majority (at least 50%) of voters must approve the spending plan in order for it to pass. If it doesn't, Mayfield would be required to eliminate $17,016 in equipment, specifically equipment for students. This is money that Mayfield will likely need to spend in order to follow the newly developed CDC recommendations. Please keep in mind that the average taxpayer will only see an increase of $5.22; or $0.43 per month if the 2020-21 budget is approved as presented.
2. Mayfield Board of Education candidates
Mayfield voters will fill two vacant seats effective July 1, 2020:
One seat is for school board member for a period of five (5) years from July 1, 2020 to June 30, 2025 to succeed Aaron Flynn, whose term expires on June 30, 2020.   The candidate running for this vacant seat is Aaron Flynn. 
The second seat is for school board member for a period of one (1) year from July 1, 2020 to June 30, 2021, to succeed Jennifer Andrews, who has resigned.  The two (2) candidates running for this vacant seat are Tara Caraco and Michelle Moore.
Click on the candidates' names for more information about each candidate.
3. Bus purchase proposal
The district is proposing to purchase one (1) 66 passenger bus and one (1) 44 passenger bus at a maximum cost of $231,000. The cost for this purchase will come form a reserve account and have no impact on the 2020-21 tax rates. Community approval is required to spend money from the reserve account.