Mayfield's graduation was different this year – the class of 60 students was broken up into three ceremonies, to comply with the governor's dictate about a maximum of 150 people at graduations to stop the spread of the COVID-19 virus.
Each student received six tickets for guests. The guests sat at tables – spaced at least 10 feet apart – with the student's name on them; the graduates sat in chairs at least six feet apart on the side of the stage.
Students and guests wore masks as they entered the large tent set up on the front lawn of the Jr./Sr. High School.
This was the 82nd commencement ceremony at Mayfield Jr./Sr. High School.
Each graduate received something unique: an elbow bump from Principal Christopher Wojeski as they walked up on stage to pick up their diplomas and awards.
"You will be known as the COVID class," Wojeski said during his remarks, noting that the last day of classes was 12 weeks ago in mid-March and students have learned virtually since that time. "The community has come together during this time. Friendships and relationships have been strengthened, even if virtually."
Despite the disappointments, like losing a prom and other typical senior activities, he advised them to "smile and be proud to be a Panther forever."
The ceremony included the traditional flower exchange, in which graduates give a flower to someone in their family. A large screen showed speeches by the valedictorian and salutatorian and listed each student's awards.
Here's today's graduation program, including the list of scholarship award winners.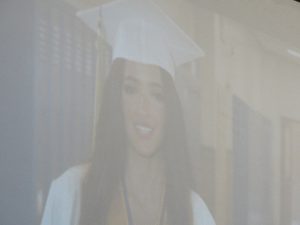 Salutatorian Marriana Mattice talked about the missed opportunities and suddenly being thrust into learning through a computer after classes were canceled 12 weeks ago.
"Although you may never know when hard times are going to hit, how you are able to adapt and respond is what ultimately makes you stronger in the end. We get to be sad, sad for the things that we missed," she said.
"But, we also have to recognize that people have lost jobs and have been devastated by the ramifications of the virus that continues to put a damper on our lives. Gratitude for our health and the health of our families is paramount. And in knowing this, it is okay for each of us to grieve the unprecedented end of our high school years."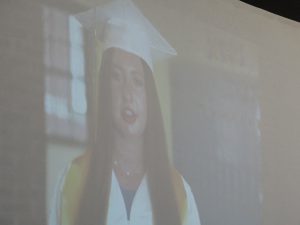 Valedictorian Jordan Rivenburg said that it is easy to become depressed or despondent during a time like this.
"It is challenging to "end" school during a pandemic and it is challenging to see the bright side in a world so dark right now," she said. "The important thing is not to dwell on these challenges and all that we've missed out on, but to remember this bond that we share to help motivate us to become better people. We cannot let this moment or this situation define us as students, we will move forward in this changing world, stronger because we have been prepared for this.  Our class of 2020, more than any that came before us, has strength, perseverance, and grit."
Here are a few photos from today's ceremony: