Local students, educators and community leaders were recognized by the Broadalbin-Perth Lions Club at an awards event held at the historic Broadalbin Hotel.
Each year, the Broadalbin-Perth Lions Club presents awards to graduating seniors from Broadalbin-Perth and Mayfield Central Schools, acknowledging these students' community service as demonstrated by their involvement and activities in school, church, and local organizations.
Broadalbin-Perth Lions Club President Bob Townsend said "we come together to celebrate some very exceptional young adults as well as show our appreciation to all of you who are partners in our mission of 'We Serve'".
This year's Mayfield recipient was Isabella Towne. She received $2000 towards her future endeavors. Applicants for the award were submitted by each school district to the Broadalbin-Perth Lions Club. A committee reviewed the applications and those selected were done so based on their overall commitment to the Lions' mission of "We Serve."
Isabella has been cited for academic excellence and has played on the soccer and softball teams. She is also a member of National Honor Society, Co-President of Student Council, Key Club, Drama Club, and served as Class Representative. She has been cited as a Student of the Month, recognized on Principal's List, and is the recipient of the St. Rose Presidential Scholarship. She will be attending SUNY Plattsburgh in the fall and hopes to be a nurse.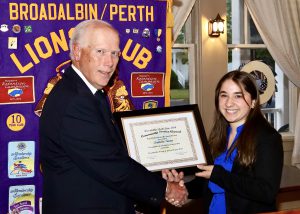 Recognition was also given to Mayfield 10th grader Maya Rohling, who represented the school at the Hugh O'Brien Youth (HOBY) Leadership Forum this spring. The Broadalbin-Perth Lions are sponsors of the HOBY program, which is designed to help high school sophomores to recognize their leadership talents and apply them to become effective, ethical leaders in their home, school, and community. Lions Clubs International has several Global Causes, said Townsend, but there is none more important than engaging with our youth through programs focused on service and leadership development.
Master of Ceremonies and Broadalbin-Perth Lions Club President Bob Townsend lauded the students recognized "not only for their academic successes, but also for their service to their schools and communities as they are making a difference in the lives of others".