The 81st commencement for Mayfield Jr./Sr. High School was held today on the front lawn before parents and loved ones.
A total of 65 students received diplomas. Here's the program from the ceremony. 
Students received dozens of awards and recognitions. Check those out here. 
Salutatorian Taryn LaFontaine told graduates that the time at Mayfield Jr./Sr. High School flew by but the class is ready for the future.
"Today is the day that we will no longer be Mayfield High School students.  We are all teetering on the edge of adulthood which can be a terrifying thought, but if there is one thing I have learned in my time here at Mayfield, it is that this is a community where everyone supports each other no matter what, and it will support us as we figure things out, but it will let us do it on our own," she told her fellow graduates.
"This community has raised us, guided us, and supported us, and now it has to let us go. However, this community will still be here when we come back to visit. It is our time now to go after our dreams."
Read Taryn's entire speech here.
Valedictorian Maggy Lambo told her fellow graduates to be ready to face life as it comes at them.
"So what's next? In the words of a great film, High School Musical 3: Senior Year, "High school wasn't meant to last forever." For better or for worse, high school is officially over. Once we leave today, we are free," she said.
"By the end of the summer, we will be going our separate ways, off to college, enlisting in the military, finding a job, or even moving to another state. This ceremony marks the end of our time at Mayfield High School, but it's also the START OF SOMETHING NEW. Some students will spend the next few years furthering their education, going on to college, law school, med school, or grad school to get a degree. Some of you are doing something different. College isn't for everyone and that's okay."
Read Maggy's entire speech here.
Board of Education President Ernie Clapper, using a soccer analogy, told the students "you are all winners…it doesn't matter if you are the 0 or the 1." Clapper is ending his tenure on the Board of Education after 15 years but one that followed a career at a teacher, administrator and soccer coach.
Students also handed out yellow roses to their loved ones in the audience, a quaint Mayfield tradition.
The students gradating today, along with their diploma types and future plans,  were:
Dylan Adamson* – Employment
Lily Aesch* – Fulton-Montgomery Community College (FMCC)
Cameron Allen* – SUNY Potsdam
Roy Andrilla Jr. * – Employment
Giovanni Angelo** – FMCC
Dylan Bumpus**h – United States Air Force Academy
Cassandra Cerasia**h§ – Roger Williams University
Damiana Crankshaw** – Full-time Ministry
Garret Delaney** – The College of St. Rose
NicholasDeMaria IV – FMCC
Andrea Denney* -FMCC
Johnathan Drake* – Pikes Peak Community College
Maxfield Eschler-lnsogna* – Employment
Alexandria Evens* © – FMCC
Nicole Fazio* – Hudson Valley Community College
Darren Frasier* – FMCC
Walker Goodemote **h§ – LeMoyne College
Joshua Gordon Jr.* © – Employment
Isabella Greco* – Eastern Nazarene College
Zachary Hamm* – Employment
Isabelle Henderson** h – University at Buffalo
Tabitha Henzel* – FMCC
Salma Hickok**h§ – FMCC
Colbey Hime* – FMCC
Dallas Hines* – FMCC
Zariah Holland* – FMCC
Kendrick Jackson** – FMCC
Chloe Jarrett* – Siena College
Morgan Jarrett** h§ – Syracuse University
Alexandra Johnson** – Syracuse University
Samantha Kent* – Keuka College
Thomas Kline Jr.* – Employment
Taryn LaFontaine**hn§ – Cornell University
Katie LaGrange* – FMCC 
Maggy Lambo** hn § – Yale University
Amy Laubenstein**h – SUNY Geneseo
Thomas Lawrence* – United States Army Reserves
Daniel Leach** h§ – FMCC
Evan Lehr** – FMCC
Adam Liebers** – Utica College
Daniel Little* – Employment
Antonio Mannino** – Castleton University
Natalie May* AAS
ShawAnn McSplrlt* – Employment
Emily Mormando** – FMCC
Diana Morse** h – Pima Community College
Anthony Mullarkey*© – Employment
Mlkayla Myers** – SUNY Potsdam
Luka Nlkollaj* – Employment
Alexis Oliver** – FMCC
Ryan Phillips* – Castleton University
Savanah Pierce* – FMCC
Taylor Proctor** – Nazareth College
Chelsey Redmond** – Maria College
Danielle Skellel*© – Employment
Brooke Snyder*© – Employment
Christian Thomas* – Employment
Hannah Tomlinson* – SUNY Canton
Shelbylyn VanNostrand* – FMCC
Joseph Ward* – FMCC
Joshua Wasson*© – Employment
Kira Williams** – FMCC
Matthew Wilson*© – Employment
Nicholas Witzel* – FMCC
Anthony Yuret* – FMCC
Symbol Code
* Regents
* * Advanced Regents
n Mastery In Math
§ Mastery in Science
n Wit h Honors
AAS Associate o f Applied Science Degree
©  Career and Technical Endorsement
Mayfield's Honor Guard
The 27 top students in the Class of 2019 – those students with a cumulative average of 90 or higher – have been  announced. These students  – known as the Honor Guard – were recognized at an awards ceremony on Friday, June 28 at the Mayfield Junior-Senior High School auditorium and at graduation today.
The Honor Guard students are: Maggy Lambo, Taryn LaFontaine, Isabelle Henderson, Morgan Jarrett, Walker Goodemote, Kira Williams, Amy Laubenstein, Taylor Proctor, Dylan Bumpus, Alexis Oliver, Cassandra Cerasia, Daniel Leach, Diana Morse, Alexandra Johnson, Chelsey Redmond, Mikayla Myers, Salma Hickok, Adam Liebers, Andrea Denney, Ryan Phillips, Chloe Jarrett, Emily Mormando, Tabitha Henzel, Garret Delaney, Damiana Crankshaw, Giovanni Angelo and Shelbylyn VanNostrand
Check out the writeups about these students in the advertisement from the Leader Herald. Download the advertisement here.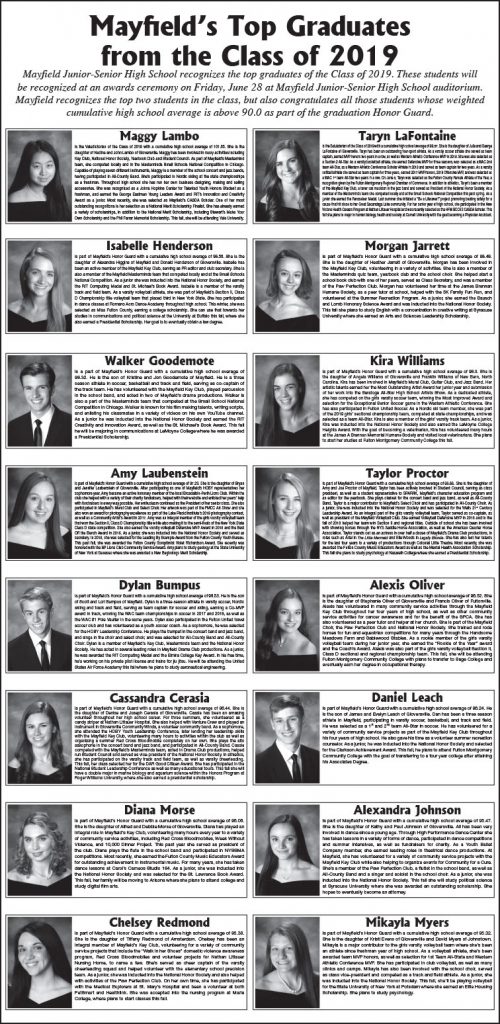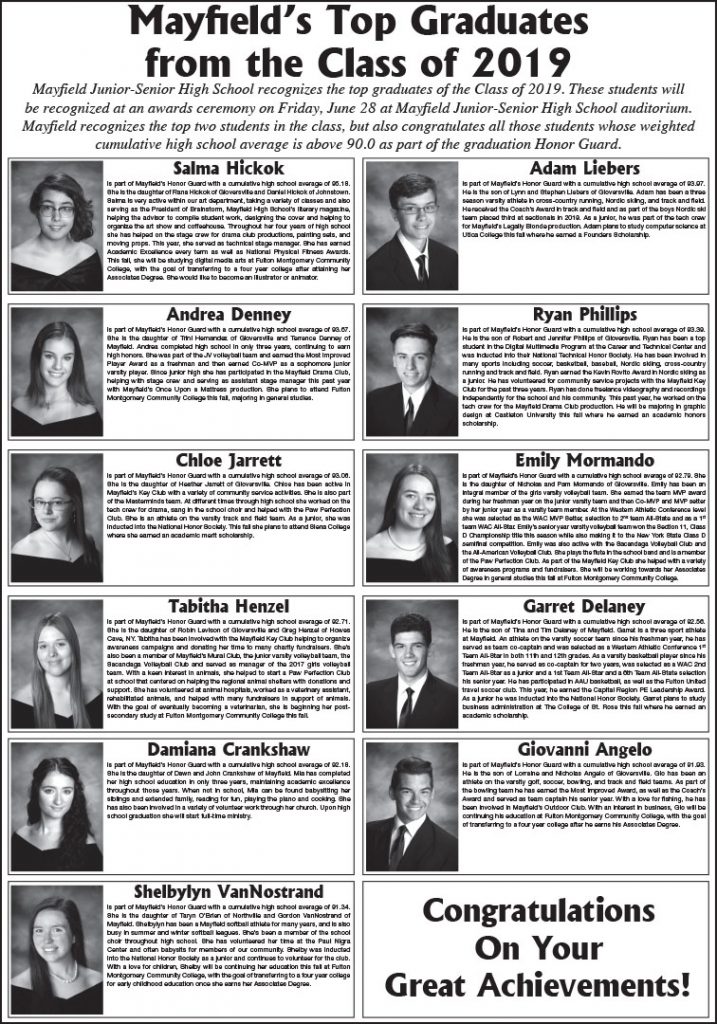 Here are a few pictures from today's ceremony.