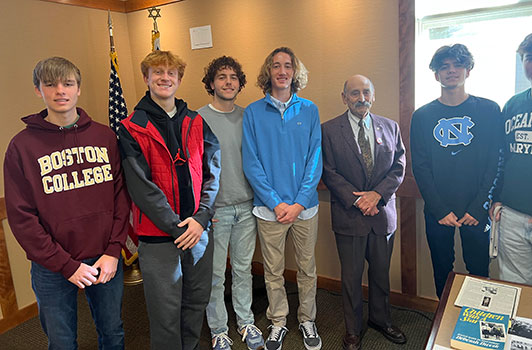 Resilience, quick thinking and history were among lessons imparted by Holocaust survivor Ivan Vamos, who recently shared his story with students in Jennifer Doty's Psychology and History of the Holocaust classes and Robert Thelin's AP US History class.
Now 84 years old, Mr. Vamos explained to the students how his mother's quick thinking saved him from the firing squads on the Danube River in Budapest, Hungary. To listen to Mr. Vamos, the students traveled to the Holocaust Survivors & Friends Education Center at the Jewish Federation of Northeastern New York in Albany on Nov. 18.
"It was the first time since the pandemic Mayfield students were able to return there," Ms. Doty said. "The students also had the opportunity to visit the Golub Center's Holocaust Survivor library, which has photographs, yellow badges and other artifacts on display donated by our survivors."
The Center's mission is to "focus on what led to the Holocaust, share survivor testimonies, and correlate through education how racism, bigotry, and hatred can lead to genocide. The Center is dedicated to knowledge, remembrance, and action against prejudice today."
Maddi Relyea, a Mayfield alumna, is quoted on the Center's webpage about listening to Mr. Vamos' story during a past visit there.
A December 2018 article on this website features Mr. Vamos' biography.