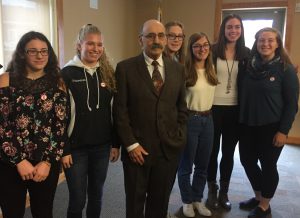 On Friday, November 30, AP U.S. History, AP Psychology and History of the Holocaust students from Mayfield, Fonda-Fultonville, Galway and Oppenheim-Ephratah-St. Johnsville attended a Holocaust Survivor Presentation in Albany.
Mr. Ivan Vamos shared his story of survival as a young boy in Budapest, Hungary, just as Adolph Hitler's Germany was invading Austria.  "Every day I do my best to live life well and never give up," Mr. Vamos told the students.
Biography of Mr. Ivan P. Vamos
Ivan Vamos was born in March 1938 in Budapest, Hungary nearly on the same day that Adolph Hitler's troops from Germany marched (unopposed) to take over Austria.
The Vamos family assumed that their long-established status in the community would keep them safe, but that was not to be.
Several members of Ivan's mother's family left Europe, though with considerable difficulty. Two uncles were to return as US GIs, one of them with the Normandy invasion. Ivan's father was conscripted into a slave labor battalion that accompanied the Hungarian Army in their invasion of Russia in 1941. Most of these Jewish men – including Ivan's father – died or were killed probably by the retreating Hungarians. 
In Hungary, "foreigners" were deported to concentration camps and restrictions for Hungarian Jews were draconian. Parks, pools, theaters, schools, professions and even sidewalks were prohibited for Jews and Gypsies (the Roma). Valuables, businesses and homes were confiscated. Yellow stars had to be worn. In 1943, Ivan's grandfather, a decorated WWI Austro-Hungarian officer, was called up by the military, accused of disloyalty and beaten to near death, so Ivan's mother decided to hide. Carrying false papers, she and Ivan pretended to be refugees from the Russians, and found lodgings in a rural area until spring 1944.
In 1944, alarmed by roundups of people in the countryside, Ivan's Mother and Ivan walked back to Budapest. They arrived at a "protected house" (probably one of the houses under Swedish sponsorship, as bravely arranged by Raul Wallenberg). They stayed for a few weeks in a very crowded apartment, until a German takeover (invasion) of the Hungarian government in March 1944 (a former Axis ally of Germany, Hungary was rumored to be ready to sue for peace). This "invasion" put the ultra rightist Hungarians called "Nyilas" (represented by crossed arrows) in charge of the country by the fall. These violent criminals herded all those in the protected houses and found elsewhere to boxcars that headed for the extermination camps.
As thousands were headed for deportation, Ivan's Mother grabbed his hand, and took the risk of running into a group of on-lookers on the sidewalk. Running then walking in haste, and after a few close calls, they ducked into a bombed-out apartment house. Fortunately they still carried a hidden bag of split peas Ivan's Mother had obtained months before in the countryside, and water remained in some toilet flushing tanks, allowing for their survival. They continued to hide in several of these smoldering ruins for months until the Russians arrived.
After the liberation, food was scarce, disease rampant and everything seemed unsafe. Ivan's Mother had US GI brothers who could sponsor a visa to immigrate to the US. The Hungarian quota was hopelessly backlogged however, so she remarried a Czechoslovak and they could immigrate on that quota. Ivan, still a Hungarian by US INS rules, stayed behind for another year until he could advance on the Hungarian quota as a dependent youth, immigrating to the US in the fall of 1947. In the interim year Ivan was able to stay on a farm where food was plentiful people were friendly and he had a job of herding pigs.
After arrival in the US Nov. 1947
After arrival, Ivan attended NY city public schools, worked at various jobs in the city, including as a plumber, and became a US citizen in 1953. He graduated as an engineering geologist and geophysicist from Columbia College, obtained an MS from Columbia University School of Architecture and completed the course-work for a Doctorate in Public Administration at the State University at Albany. He served in the US Navy as a shipboard engineering officer, as Port Control Officer for Reykjavik Iceland, and Officer in Charge of a Radar Site in NE Iceland. He also worked as an Engineering Geologist / Geophysicist in the US and Australia.
Ivan worked for NY State for thirty years and retired as Deputy Commissioner for Planning and Development at NYS Parks. He also worked for conservation and transportation agencies, the military and private firms for 52 years. Since retirement, Ivan worked as a consultant. He represented river and shoreline protection, bicycling and pedestrian interests and worked on projects in the northeast US, Russia, Iceland, Barbados, Hungary and Australia.
A Certified Planner (AICP), he is a life member of the National Ski Patrol, trails, waterway and bicycling organizations. He and his wife of 49 years are both naturalized U.S. citizens ("Rietje," his wife, is from the Netherlands). They have three children and five grandchildren.
Currently Ivan works part-time with the Hudson Group LLC, and recently completed an analysis of the impact of PCB pollution in a section of the upper Hudson River (an EPA funded study), brown-field remediation projects in several cities, locating sites for safe swimming in the Hudson for DEC and State Parks. He also supervised the conduct of a Pedestrian Safety Study undertaken by the NYS Bicycle Coalition for the Governor's Traffic Safety Council. He serves on Statewide and regional transportation and trails advisory committees.
Here are a few photos from the event in Albany: