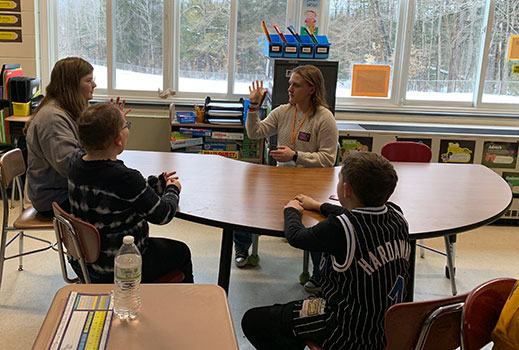 Mayfield High School students headed to the Elementary School in early March to lead their younger peers through anti-bullying and empathy-promoting exercises. The high school students tapped into skills learned through working with Pat Fish of Sweethearts & Heroes.
Fish returned to Mayfield High School and Elementary School on March 2 and 3 to continue building on concepts and skills students explored in January and September. During this visit, high school students became active members of the Sweethearts & Heroes empowerment and empathy activation team as they worked with elementary students.
"Sweethearts & Heroes first brought their powerful message to Mayfield last April and continued working with our students this fall and winter," said MCSD Superintendent Christopher Harper. "Their aim is to prevent bullying and promote empathy and understanding among students. Each visit, they build upon that work, providing our school community with tools to use during challenging times while enhancing our students' communications, coping and interpersonal skills."
Fish and the students also continued working in Circle, which is based on the ancient ritual of communicating in a circle to build empathy and make connections with others.
Fish directs Sweethearts & Heroes' BRAVES Buddies programs and is a certified mental performance coach who works with teams on building a strong culture and athletes to train their brains, along with their game.