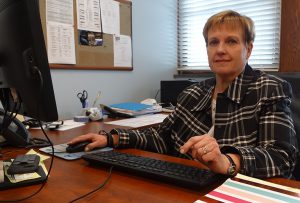 Interim Superintendent Kathy Dougherty has dedicated her entire life to providing service to others – as an educator (during a 42 year career), Johnstown Board of Education member (and now president) and through involvement with the Johnstown Senior Citizens Center and Johnstown Citizens Band.
"I believe in service to the organization. When I accepted this position, I accepted it 110 percent and I give it my all," said Dougherty, 64, who was appointed by the Board of Education to replace Superintendent Jon Peterson, who left Oct. 31.  "I want to be a role model for students and staff about what it means to provide service to this organization."
During a recent meeting, she was juggling several competing items at the same time with a steady calm and persistence while she made notes for future action.
Her appointment as interim superintendent ends on June 30. Before that, "I hope to bring the district to a point so that it is an inviting opportunity in order to attract a permanent superintendent to this position," she said.
She noted that three area school districts – Mayfield, Oppenheim-Ephratah-St. Johnsville and Canajoharie – will be searching for new superintendents this school year. As well, the HFM BOCES is searching for a district superintendent.
She has a few specific goals as she eases into the Mayfield position:
"I would like to involve the community more in its schools," she said, adding that communication with the community is vital to the success of any school district.
She wants to work with the special education program to ensure that it meets the needs of all students in the school district. She can envision certain enhancements in the program.
With the new interim director of operations, George Harrington, she wants to continue progress on wrapping up the $15.5 million capital project that was approved by the community in January 2016.
Dougherty comes to Mayfield with extensive educational experience. Between 1977 and 2000, she was a music teacher in the Gloversville, Johnstown and Oppenheim-Ephratah school districts. She served as principal of the Pleasant Avenue Elementary School in from 2000 to 2007 and then superintendent of schools in the Northville school district from 2007-2012.
Since retiring from Northville, she has also served as interim principals at the Park Terrace Elementary School in Gloversville and at the Adirondack Academy, part of the HFM BOCES. She was most recently an independent Danielson teacher evaluator for the Edinburg school district.
She has been a member of the Johnstown Board of Education since 2013 and is in her second year as board president.
She and her husband, Doug, live in Johnstown and have two children: a daughter, Erin, who lives in Ohio, and a son, Patrick, who lives in Maryland.
October 31 will be the last day that Superintendent Peterson will serve the district in his capacity as Superintendent. Mr. Peterson has chosen to step away from his lifetime of public service at this moment to focus on the care of a family member.  Together, we have made great strides over the last three years highlighted by an increased graduation rate, full-day Prekindergarten expansion, and greater student technology opportunities.  The Board and its staff wish Mr. Peterson nothing but the best as he departs the District.