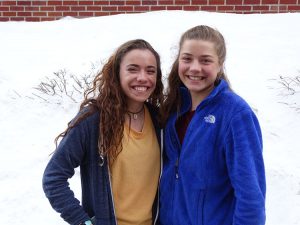 Madison Relyea and Fianna Halloran like to spend time outdoors. In the summer, they frolic on Sacandaga Lake, water skiing, tubing and having a good time. In the winter, they take to the field and Nordic ski for the Mayfield Panthers.
Their winter outdoor activity has really paid off! Madison, Fianna, Maggy Lambo, Kira Williams, Delaney LaFontaine and Tatjana Bjelica are on the Panther's winning Nordic ski team – they placed second in the state finals – the New York State Public High School Alpine and Nordic Skiing Championships – at Gore Mountain last week.
"I really like it a lot," said Madison, a sophomore. "I used to really like to run and this seemed to be the next best thing to do in the winter. It would keep me in shape for running."
Madison is competing in the U.S. Nordic Junior Nationals in Anchorage, Alaska, this weekend.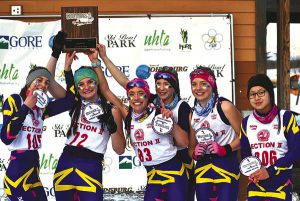 "I do it to stay in shape and really like it," said Fianna, a grade 8 student. "I started last year in 7th grade because I thought I'd do basketball, but figured why not try this." She began last year on the modified Nordic team and was quickly advanced to the varsity team this year.
Her mom had also gone to states for Nordic skiing when she was a student at Mayfield.
Both girls, who are honor students, plan to ski in college.
There are two types of Nordic skiing – classic and skate. Mayfield's team has been doing the classic Nordic skiing, which involves skiing up hills and on flat land with poles, what has typically been called cross country skiing. Skiers earn points by competing for the fastest time on the courses. Mayfield offers modified, junior varsity and varsity Nordic teams for boys and girls.
Fianna said she was worried, with two seniors leaving the team this year, that there could be problems fielding a Nordic team in the future. There must be at least three skiers to qualify as a team. 
Here are some statistics on the skiers:
Madison Relyea (grade 10)
2019 Section 2 Champion
Led her team to an undefeated season in Section 2
Finished 2nd at the NYSPHAA Nordic Championships
Led her team to a 2nd place finish at the NYSPHAA Nordic Championships
Finished 1st in every competition at the 2019 Empire State Games
Headed to Anchorage Alaska for the U.S. Nordic Junior Nationals
Fianna Halloran (grade 8)
Finished 4th in Section 2
Finished 9th a the NYSPHAA Championships
NYSSRA New York State Ski Racing Association points leader 2018-2019
Kira Williams (grade 12)
6th Place Section 2 Championships
23rd Place NYSPHAA Championships
Delaney LaFontaine (first year skier – grade 10)
8th Place Section 2 Championships
31st Place NYSPHAA Championships
Tatjana Bjelica (grade 8)
12th Place Section 2 Championships