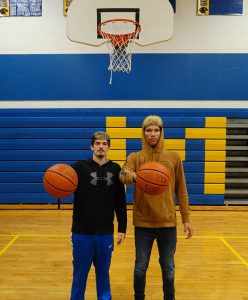 As the 2018-19 basketball season winds down after sectionals in two weeks, two players on the Mayfield varsity team will remember this as one of the best of their careers.
Senior Garret Delaney and sophomore Trevon Gifford each topped 1,000 points in their high school varsity careers – a feat only seen by two male and four female players in the history of the school district.
While they didn't keep strict track of their point totals, Athletic Director Jon Caraco clued them into the possibility during this season. As of Feb. 1, Garret had made 1,191 points in 71 games since he was a freshman; Trevon – who is the youngest player to ever hit 1,000 and still has two more years to further improve his record – topped the 1,000 point total after just 58 games since he was in grade 8.
"Because I grew up playing basketball, this just seemed to be a big goal to go after," said Garrett, the team's captain and point guard. 
"Because not that many people have done it, I thought it would be worth being one of the ones who has," said Trevon, 
Both play on team basketball teams outside the regular school season.
Garrett has played soccer at Mayfield for four years; Trevon began playing soccer last year.
Both students are college bound.
Garrett, who describes his academic average as in the 90s, said he is still deciding between Siena and Clarkson after he graduates in June. If he goes to Clarkson, it would be on a basketball scholarship. Trevon, who says he's an average student, has not thought about specific schools yet. When he goes, he hopes to go on a basketball scholarship.
When it comes to professional basketball, both seek to emulate some pretty well-known players: Garrett says he's always admired Kobe Bryant from the Lakers; Trevon likes Kyrie Irving from the Celtics.
Would they attempt professional play?
At 6 feet, 2 inches, Garrett said the average player in the National Basketball Association (NBA) is 6 feet, 6 inches. "I'll just play through college," he said. However, Trevon – who is 6 feet, 6 inches – said he'd take a look at the pros.  "If I still like it as much as I do now, sure, I could go with it. I will give it a try," he said.
Both students thanked their parents for getting them this far in the sport. "Definitely my parents, they drove me all over to practices and tournaments all over the state," said Garrett. He also thanks his coaches along the way.
Trevon said lots of folks along the way – coaches, other players – encouraged him "and of course, my parents" were there to boost his path to this point.
Just six others have topped 1,000 points at Mayfield
Just six other players have reached the 1,000 point level.
Among male players: 
Babe Baldwin, 1957, 1826 points
Dave Clarke, 1993, 1169 points
Among female players:
Stacie Hime, 1990, 1455 points
Trista Capano, 2007, 1060 points
Julie Hampton, 2016, 1026 points
Sydney Sheldon, 2018, 1138 points