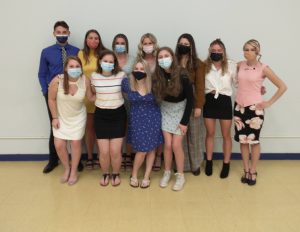 On Thursday, May 27, Mayfield Junior-Senior High School held its annual National Honor Society Induction Ceremony, welcoming 14 new members.
The National Honor Society is a national organization that honors high school juniors and seniors who demonstrate excellence in scholarship, leadership, character, and service.
The 14 members of the junior class inducted into NHS were: George Abdella, Brody Deal, Julia Fitzgerald, Britain Goodemote, Heather Ginter, Wasia Haider, Jared Johnson, Hunter Jones, Dawson Leach, Kelsey Meca, Aiden Monroe, Jacob Petoff, Lee Smith,  and Thomas Young.
Each National Honor Society senior inducted a new member with a speech highlighting the inductee's accomplishments and their exemplary character traits.
Senior members of the National Honor Society included:  Veronica Bikowicz, Jillian Botch, Aidan Halloran, Lila King, Sasha Kolesnikov, Delaney LaFontaine, Sarah Morehouse, Deandra Myers, Madison Relyea, Victoria Ruliffson, Lire Spurlock, and Mya Towne.
The senior NHS members selected Shelly Dufel, who passed away earlier this school year, for the Outstanding Teacher Award. Victoria Ruliffson gave a heartfelt and moving speech in honor of Mrs. Dufel. Junior member Kelsey Meca performed a beautiful vocal tribute to Mrs. Dufel, as well.  
Principal Christopher Wojeski concluded the evening with words of praise for the students.