Through its Wall of Dedication, the Mayfield Central School District honors people who have made a significant contribution to the children of the Mayfield community.
Guidelines:
Each school year, nominations for the honor are accepted in May, and inductions take place in the fall. Past recipients have been chosen for making a significant contribution benefiting the youth of our community, going above and beyond what is ordinary, being a positive role model for our youth, and demonstrating a high level of conscientiousness and caring for others.
Eligible recipients include:
Current or former district employees,
Current or former district volunteers,
Alumni or
Community members.
Wall of Dedication – NOMINATION FORM – Please submit your nomination form to the Mayfield Central School District Office at 27 School Street, Mayfield or call (518) 661-8222.
Wall of Dedication Past Inductees:
Noel Wing, 2023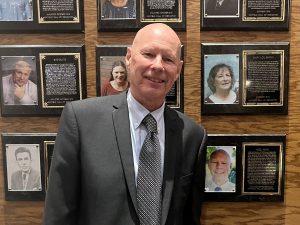 Noel Wing was an exceptionally dedicated and caring member of the Mayfield faculty from 1980-2019. He transformed the eight-member band of his first year into a well-respected and thriving program. Combining education with fun was one of the keys to Mr. Wing's success. Noel provided nearby travel experiences to the College of St. Rose, Fonda-Fultonville and Oneida Jazz Festivals and band competitions in Virginia Beach, Washington, DC, NYC, Toronto and Kitchener, Ontario for Canada's nationally televised Thanksgiving Parade among other destinations. Mayfield bands always came home with trophies and individual honors, but an increased love for music was the biggest reward. Numerous Mayfield musicians were selected to (Capital District) Area All-State ensembles and in 2009, tenor saxophonist Joe Anagnostopulos was selected to the prestigious All New York State Jazz Ensemble. Mayfield will forever be indebted to Noel Wing for his labor of love for the students of MCS.
Mary Lou Bryan, 2019
Ernie Clapper, 2019
John White, 2019
Amanda Zullo, 2018
Reverend Bonnie Orth, 2018
Allen Brown, 2018
Bob Suits, 2016
D. Paul Blowers, 2016
Eileen Rovito, 2015
Dianne Illsley Mott, 2015
Don Robinson, 2014
Kevin Rovito, 2013
Ed Lent, 2013
Dominick & Carolyn Darkangelo, 2012
Linda Hand, 2012
Kenneth A. Perham, 2012
Christopher Mraz, 2011
Jack Sanford, 2011
Jennifer Shaad-Derby, 2011
Alan H. (Herbie) McLain, Sr., 2011
Donna Ellithorpe, 2010
Ken Davison, 2010
Anita Moore, 2009
Sara Close, 2009
Nancy Frank, 2009
Barrie Hampton, 2008
Erwin "Dutch" Hull, 2008
John J. Swan, 2008
Richard "Dick" Olson, 2007
Edward "Ed" Goodemote, 2007
Marilyn Johnson, 2006
Doris "Dorie" Venner, 2006
James "Jim" "Doc" Smithers, 2006
Irene Asquith, 2005
Fred Williams, 2005
Walter Hertik, 2005
Sylvia Parker, 2005
Ken Davison, 2004
Burton E. Delaney, 2004
Elaine Olson, 2004
Phyllis Edwards, 2004