All Means All
Those three words adorn Christopher Harper's office wall, placed above the district's Mission Statement.  The last sentence of the Mission Statement states that "All students can learn."
All Means All emphasizes and complements that final sentence: Every – Single – Student at Mayfield can learn.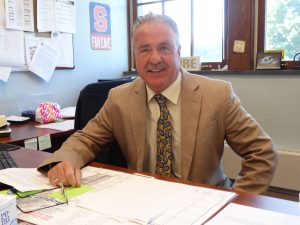 "The mission statement is very inspiring and I strongly agree with its philosophy," said Harper, who began as Mayfield's new superintendent on July 8. "To me, All Means All means all students all day long."
That student-center philosophy is what made Harper stand out among the five finalists seeking the superintendent's job. Board members, at his appointment in June, echoed their support for his student-centered philosophy as they approved his three-year contract.
Among his first priorities as superintendent is to become familiar with Mayfield and its many stakeholders, from Board of Education members and administrators to parents and community members.
"I need to gain valuable feedback from the local community," said Harper, who also said he would engage them and listen carefully to their feedback about what is working and what still needs work at Mayfield. "We will do this together to identify appropriate goals for the upcoming school year."
"This state has one of the most rigorous instructional standards in the nation.  We have felt under pressure to improve student performance, which can be daunting for our students and our staff," Harper added. "This community is very nurturing. We do our best to provide for student learning while also providing a positive work place for everyone.
"As a school district, we need to offer what is on the cutting edge for the future of our students," said Harper. "We need to look at classes being offered that are not mandatory for graduation, and class sizes that have low enrollment numbers, and fill them with classes that make our students more marketable in today's world."
Special patrol officer at both schools
Harper is moving ahead with plans to place a "special patrol officer (SPO)" from the Fulton County Sheriff's Department. The officer,  which was included in the 2019-20 budget, would provide security at both school buildings.
He said the SPO would be a police officer with special training similar to what is provided to school resource officers. "the process to obtain approval for the position and hiring of a deputy may take some time," he said, noting that he has already asked Fulton County Sheriff Rich Giardino to approach the Fulton County Board of Supervisors with the request. The district had been part of a federal grant with other area school districts that was not funded to provide an officer through the sheriff's department.
"The goal of this position is to enhance the safety of our staff, students and community," said Harper. The officer would work out a schedule to serve at both schools. "Our community wants children to be safe. In today's world, this is something that we have to take very seriously."
Impressions and plans
His first impression of Mayfield? "When I talk to the members of the PTA (Parent-Teacher Association) and PTSO (Parent-Teacher-Student Organization), you will realize that every adult and every child is enriched by being part of this school district," he said. "We work together and we play together."
He noted as an example of that support a plan by the elementary PTA to have business owners and homeowners along North Main Street hold up signs welcoming students as they return to school on Wednesday, September 4.
He'd like to see an increase in communication with community members. "I want everybody to feel that the school is the hub of the community," he said.
He would also like to open the schools up to hosting more activities with seniors, such as senior dances or a supper club.
"I would also like to see us do more with students from birth to age 3. That is such a key time in a child's life," he said. "With early intervention, we would work with kids and parents before they even get here. We could have programs for children that would bring parents and guardians together so that they can learn from each other. We would provide early intervention on parenting, early literacy and possibly speech, occupational and physical therapy enrichment services."
He is enjoying his time at Mayfield and is looking forward to meeting and collaborating with students, staff and community.