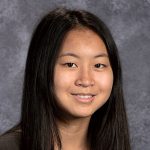 Senior Maggy Lambo has entered an exclusive club – her SAT score of 1580 has placed her among 16,000 seniors nationwide who are eligible to apply for 7,500 National Merit Scholarships to be offered next spring.
She is the daughter of John and Nadine Lambo. Maggy is undecided on her college major and intended career.
She is the first Mayfield student in several years to be a National Merit Scholarship semi-finalist.
Maggy has been a very active Mayfield student. She qualified for state competition on the Nordic Skiing team and also serves as the club's treasurer; she plays the first clarinet and jazz keyboard in the High School Band; she finished second in the Masterminds league competition in grade 11; she's a class representative in Student Council; is a member of Key Club and founded the Book Club.
She has received the George Eastman Young Leaders,Award, RIT Innovation and Creativity Award 11 and is a Johns Hopkins CTY High Honors Student.
She's held part-time jobs, 15-20 hours per week, while in high school.