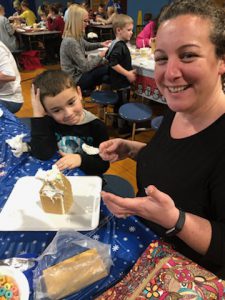 A more than 30-year tradition continued at Mayfield Elementary School today – making Gingerbread houses.
A parent or family member came into school to help a kindergarten student decorate the houses.
This project involved students from the classes of Marcie Jordan, Lisa Klena and Jennifer Mellen.
This year's holiday break runs from Monday, Dec. 24 to Monday, Jan. 1. Classes resume on Jan. 2.
Here are a few pictures from today's event: