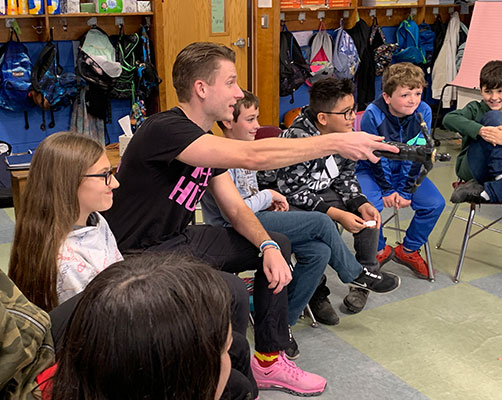 During September, students at Mayfield Jr./Sr. High School learned about empathy, understanding and positive connections from Pat Fish of Sweethearts & Heroes, and on Nov. 3 and 4, it was elementary students' turn to build their listening, communication and coping skills.
Fish worked with the students on Circle, which is based on the ancient ritual of communicating in a circle to build empathy. Circle brings people together through deep listening, making connections, understanding perspectives, emotional sharing and compassion. Fish was assisted by a Black Panther action figure he passed around the circle that gave each student holding it the opportunity to talk (and others to just listen.) 
Fish's visit built upon work begun last spring, when Fish, Tom Murphy and Rick Yarosh of Sweethearts & Heroes first brought their powerful message to the elementary school.
Their engaging visits provide students with tools they can use every day and especially during challenging times. By returning to Mayfield throughout the school year, Fish will help ensure that Circle and the positive skills learned become part of school culture.